GZ PT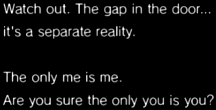 GZ PT is a standalone non-profit GZDOOM based remake of Hideo Kojima's Playable Teaser. While not a 1:1 remake, every sequence has been recreated as close as possible to the original, with low res assets and textures in true retro fashion.
Will you manage to escape the haunted corridor?

This game is completely standalone, only GZDOOM is required to play!
Please don't ask about Quest Gzdoom or Delta Touch, this game was made and tested specifically for standard PC GZDoom so while it may work on those specific versions I cannot answer or give tech support to Delta/Quest users.

Install instructions
-GZPT is a completely standalone project and doesn't require any of the DOOM games to run-
*Download Gzdoom at https://zdoom.org/downloads
*Extract the Gzdoom files and GZPT.ipk3 in the same folder
*Click on Gzdoom.exe, select GZPT.ipk3 if prompted, and play!
*Configure keyboard and mouse, and other settings in the options menu!
To interact with things and solve puzzles, you use the "Use" and "Altfire" buttons. Always Run and Mouselook should be set to On as well.
FAQ:
Q: The mod doesn't start, I'm getting a "Script error, "GZPT.ipk3:cvarinfo.txt" line 1:
cvar 'cl_tvdistortion' already exists" error message!
A: You're loading GZPT twice! This can happen if you start the game from GZPT.ipk3 instead of Gzdoom.exe, just use the exe and it'll work!
Q:Can I play this with mods?
A:Only if they're made specifically for GZPT, anything else will cause error, conflicts and possibly crashes.
Q:In the original PT you had to use the microphone at some point, is it required here?
A:No, there's no way for me to control the microphone on Gzdoom, so it's changed to something else.
Q:Can I run this with the Software renderer? What about the Softpoly renderer?
A:You can only run this in OpenGL or Vulkan.